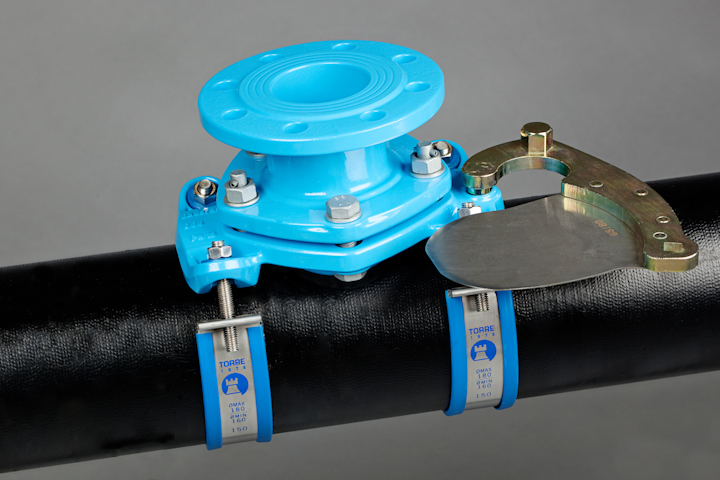 GIGA Tees Under Pressure Connections
For large diameter service connections and by-pass diversions. These are installed on cast iron and asbestos cement pipes for up to nominal maximum pressure of 16 Bar water pressure.
Protection of the pipe: a fundamental advantage of Torre saddles is that they do not damage the pipe if excessive torque is applied. The special thickness of the gasket and the design of the straps absorb any excesses during assembly. Especially important in installations on asbestos cement pipes.
Key Features
Outlets in 65mm, 80mm and 100mm
100mm to 355mm Pipe OD's
16 Bar Rated
Low stack Height
Reusable Slide Plate Valve
One Bolt removed for Slide Plate access
Place Tee as required and avoid other utilities
WRAS approved components
Also available to suit Ferrous and PVC mains
Type Of Connection
At the top of the Giga saddles there is a flange, in accordance with DIN standards, to which any type of standard accessory can be coupled.
Tee Components
The Giga collars are made up of a saddle (upper part) and two straps (lower part). The appropriate saddle and straps should be selected for each by-pass deviation and pipe diameter size.
WRAS Approved
All Torre Tees & Saddles are equipped with EPDM joints with drinking water certificates.
WRAS (Water Regulations Advisory Scheme)
ACS (Attestation de Conformité Sanitaire)
Corrosion Resistance & Strap Technology
The whole tee results electrically insulated, consequent to the component materials, thus avoiding galvanic corrosion. Straps incorporate welding free manufacturing technique to avoid inter-granular corrosion.
Slide Plate Shut Off
To carry out the under pressure connection operation, the water flow is interrupted, by means of inserting the stainless steel slide plate that is supplied with the Giga equipment.
Convenient Installation
Compact design of Torre® drilling tool and strap anchoring system, both enable to install Giga flanged tees in restricted access spaces in any vertical, horizontal or inclined position.
Storage Advantages
Saddles and straps alike are supplied in labelled boxes to make handling, storage and identification easier. Each box comes with a brochure including detailed assembly instructions along with information sheet detailing application range and the size of drilling cutter that should be used.