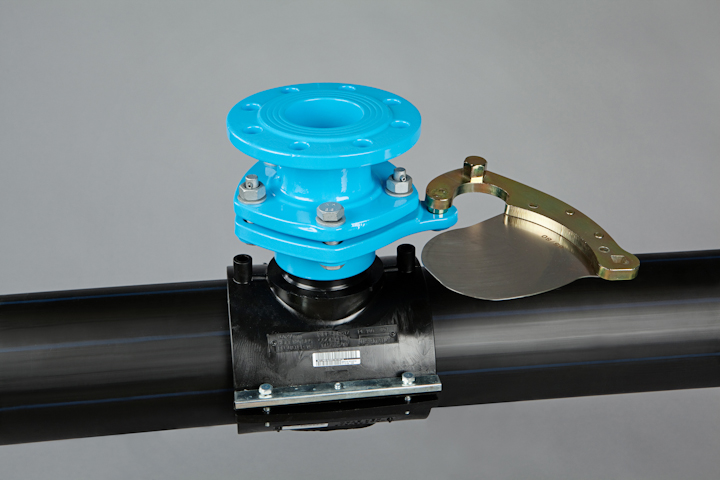 PE GIGA Tees for Under Pressure Applications
For large diameter service connections and by-pass diversions. Installed on Polyethylene Pipes up to a nominal maximum pressure of 16 Bar water pressure.
Key Features
Outlets in 65mm, 80mm and 100mm
Low stack Height
Reusable Slide Plate Valve
One Bolt removed for Slide Plate access
Place Tee as required and avoid other utilities
WRAS approved components
Also available to suit Ferrous and PVC mains
Type Of Connection
At the top of the Giga PE tees  there is a flange, in accordance with DIN standards, to which any type of standard accessory can be coupled. The lower part can be welded by means of electrofusion to any type of polyethylene pipe with a maximum SDR11 thickness.
Slide Plate Shut Off
To carry out the under pressure connection operation, the water flow is interrupted, by means of inserting the stainless steel slide plate that is supplied with the Giga equipment.
Convenient Installation
The compactness of the Torre drilling equipment make it possible for these saddles to be installed in places with restricted access and in any vertical, horizontal or sloping position.
Capping Off Service Connections
By loosening the nuts and inserting the slide plate, repair work can be carried out on the service connection network or the tapping can be capped off by means of inserting a blind end flange.
Storage Advantages
Each box comes with a brochure including detailed assembly instructions along with an information sheet detailing the range of applications and the size of milling cutter that should be used.