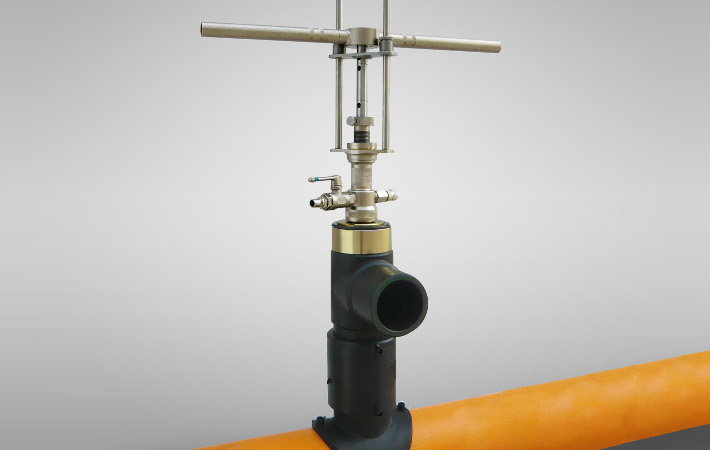 Supraflow®  Under Pressure Tapping Tee
Supraflow® tapping tees are a unique solution for big flow branching for servicing, grid extension or by-pass installation. A specially designed drill cutter is housed inside Supraflow®: it is a "zero chips" cutter retaining both coupon and chips and leaving pipe clean. No other solution offers the possibility to live branching in large diameters (90, 110 & 160mm) in an easy and "intrinsically safe" procedure.
Key Features
 Outlets with diameters 90, 110 and 160 mm
 Mains with diameters from 110 to 315 mm (SDR11 and SDR17.6)
 Under Pressure Branching
 10 Bar Gas Rated
 High Flow
 Intrinsically safe procedure
Key Benefits
 Very fast installation
 Installation possible in very tight spaces
 Almost no need for extra excavation
 Lower public disturbance due to small excavation
 Can be installed in any position
 No impact on the pipe (no squeezing off)
 Externally fully PE covered
Standards
Manufacturing, assembly and testing follows strict quality standards specified by UNE EN ISO 9001. Supraflow
®
tapping tee is certified by GNF. Mechanical head coupling complies with UNE60405-1 and UNE60405-2 (corresponding to fixed links) equivalent to GIS/PL3 and ISO 10838. Accessories comply with UNE EN 1555-3.